Mary Kate Cary is the executive producer of 41ON41, a documentary film about former President George H.W. Bush, the 41st president of the United States. Cary conducted and compiled 41 extraordinary interviews with those closest to President Bush, including family, friends, sports and media celebrities who shared their fondest and funniest stories about Bush's leadership, humor, bipartisanship and integrity. The film debuted domestically on CNN in June 2014 and is currently available on Netflix, iTunes, Amazon and as video on demand on cable systems worldwide. Pulitzer Prize-winning historian David McCullough called 41ON41 "a great gift to history."
41ON41 takes the viewer on an emotional journey as it reveals a remarkable husband, father, grandfather and friend who also happened to be the leader of the free world. President Bush's handling of the momentous events of 1989 through 1992 — among them the Fall of the Berlin Wall, the unprecedented international coalition after Saddam Hussein's invasion of Kuwait, and the 1990 budget deal — are described by eyewitnesses to history who were inside the Oval Office.
The narrative is a seamless weave of behind-the-scenes stories — some funny, some poignant, all fascinating. Led by former First Lady Barbara Bush, the 41 storytellers include an interesting array of people from former presidents and world leaders… to comedians, Hall of Famers and skydivers … to Secret Service agents, White House butlers, family members, fishing buddies and more — several of whom have never spoken on camera until now.
WHAT THEY SAY ABOUT 41ON41
"Every corporation in America needs to hold a women's leadership summit to show support of and interest in cultivating a diverse workforce, and have Mary Kate Cary as a keynote speaker. Her true stories about women who have changed America for the better were fascinating, well told, and highly motivating to our top management. She shared advice on career and professional development that would benefit all executives. Mary Kate brings an incredible amount of energy, warmth and authenticity that left our execs with powerful messages they continue to be inspired by today. Her presentation was the highlight of the conference."
"Whenever I had a high-stakes speech to deliver, my first call was always to Mary Kate Cary. Mary Kate is smart, gets the issues quickly, is a great writer and a pleasure to work with. She learns your voice and makes you sound better. I cannot recommend her more highly."
"Mary Kate delivered a highly-rated presentation. We'd have her back in a heartbeat. She's smart, engaging and funny – all the things that make up a great experience."
"I've worked with Mary Kate Cary for years on various speechwriting projects. She knows how to listen to clients and gets your message out in a way that is persuasive, accurate and entertaining."
"We intend to show 41ON41 to all newly-reported GHWB Sailors and will continue to do so for the next 45 years that this ship is in service."
"41ON41 is a strong, good-hearted portrait of an American president … I don't think its importance can be overstated. It is a great gift to history. Bravo executive producer Mary Kate Cary and all those who made this landmark portrait happen."
"41ON41 is a storyteller's delight … It is about America, as directed and produced by a group of filmmakers who understand how the life of one man can inspire a nation. And we are all the better for it."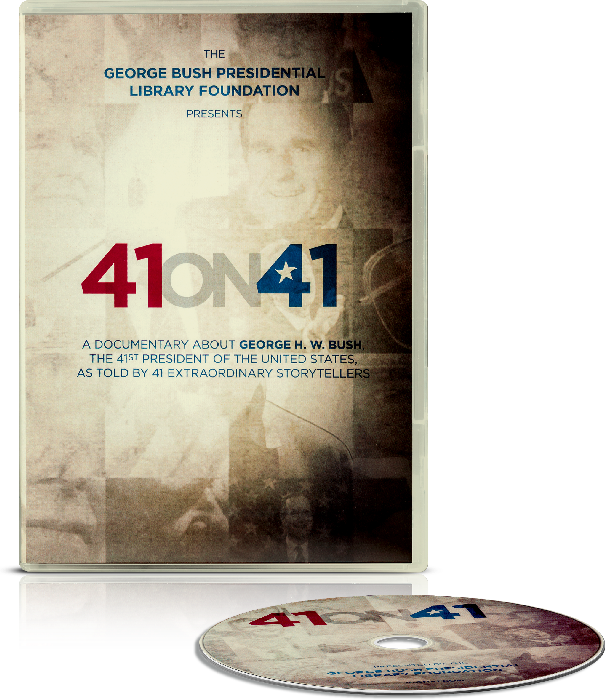 World Premier on 

An enlightening 90 minute documentary looking at one of America's most beloved leaders, President George H. W. Bush, as told by 41 extraordinary storytellers.
A Lookalike Productions Film
Executive Producers: Mary Kate Cary and Rick Kaplan
Producers / Directors: Lisa Lax and Nancy Stern Winters of Lookalike Productions