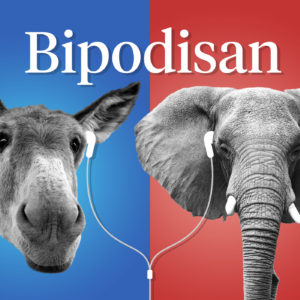 The Insider Podcast That's Red and Blue Without the Black and Blue
According to The New York Times, 1600 political podcasts have begun since the Inauguration of President Trump, and nearly all of them broadcast to the extremes on each side.  Mary Kate Cary hosts one of the few political podcasts that features prominent (and not-so-prominent) Republicans and Democrats actually speaking to each other, usually in a sports bar in Washington, D.C.  Bipodisan is a political podcast dedicated to civil conversation about the most pressing issues facing our nation — and solutions that might appeal to both sides.  Unlike other podcasts, we approach topics from both the left and the right — sometimes agreeing to disagree, sometimes changing our minds, and always trying to see things from the other side.  Available on iTunes, Google Play and Stitcher.
Customer Reviews on iTunes
Bravo for "Bipodisan."   ☆☆☆☆☆
by ZKN1064
Great insights, great rapport, and a great service at this moment in our history.
Finally!   ☆☆☆☆☆
by TCW_92
Finally a platform for engaging and constructive, bipartisan conversation! Bravo!
Nice start.   ☆☆☆☆☆
by Rockettes3
Love the thought of not listening to people trying to talk over each other.
Smart and civil   ☆☆☆☆☆
by LJMLJM23
This is how citizens should do discourse. I learned, I empathized, I reconnected to core beliefs we all care about. Now I'm going to evangelize. Because everyone who cares about upholding and sustaining the idea that is America should listen to this podcast.
Listen to this podcast!    ☆☆☆☆☆
by acbrock
The hosts are smart, funny and engaging. Great topics with great conversation.