Mary Kate Cary's experience in the White House and on Capitol Hill makes her a compelling analyst and columnist. Additionally, Ms. Cary served as founding Managing Editor of the daily political news service The Hotline, as a staffer at ABC News' This Week with David Brinkley, and was a long-time columnist at U.S. News & World Report.
In 2017, Ms. Cary was named one of the first senior fellows at UVA's Miller Center for Public Affairs, a nonpartisan institute that seeks to expand understanding of the presidency, policy, and political history. In 2016, she was an Advisory Board member and contributing writer on White House communications strategy to the Center's First Year project, which advised the new Administration on a variety of issues.
From 2009 to 2017, Ms. Cary was a contributing editor at U.S. News & World Report, writing hundreds of blogs and columns on politics, many of which have been published on RealClearPolitics.com. She serves as a weekly paid political analyst on Canadian television (CTV), and has appeared on broadcast and cable networks, including ABC News "This Week with George Stephanopoulos," CNN, Fox News Channel, Fox Business News, C-Span, MSNBC's "Hardball with Chris Matthews" and the BBC.  Ms. Cary has made more than 100 appearances on National Public Radio.
Ms. Cary has been an Advisory Board member of the George Bush Presidential Library and Museum at Texas A&M University since 2004. She is former chair of the University of Virginia's Department of Politics alumni advisory board, and is currently a trustee of the UVA College Foundation.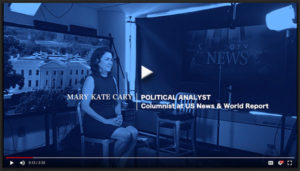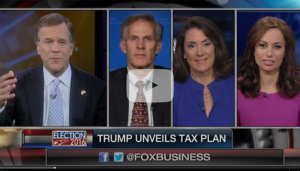 FOX Business News' After the Bell: Harvard Professor Jeff Miron, former George H.W. Bush Speechwriter Mary Kate Cary and Democratic Strategist Julie Roginsky weigh in on Donald Trump's tax plan.