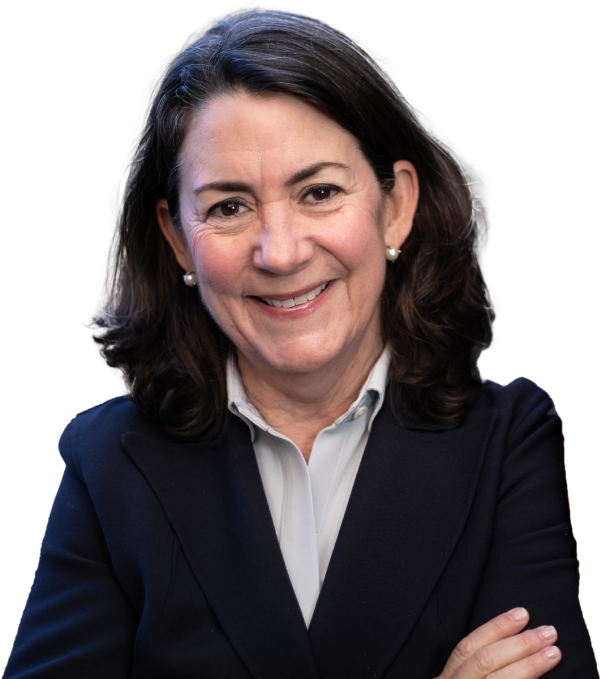 MARY KATE CARY
Advocate for Free Speech on College Campuses
Mary Kate Cary is a professional speaker and panelist on the American presidency, political rhetoric, and current politics. In 2019, when she began her teaching career at the University of Virginia, Ms. Cary became a leading voice in the free speech and viewpoint diversity movement in higher education across the United States.
In addition to being a guest lecturer at dozens of universities nationwide, Ms. Cary has spoken at corporate conferences and presidential libraries, and led conversations on political panels, during leadership training sessions, and at college alumni gatherings.
KEYNOTE SPEAKER & GUEST LECTURER
Popular Speaking Topics
Free Speech in Higher Education Today
Building Viewpoint Diversity on College Campuses
What Young People Can Learn from George HW Bush
The Greatest Speeches in American Political History
The Nuts and Bolts of Persuading Others in a Polarized World
Audiences
Mary Kate Cary is a sought-after panelist and speaker who has wowed audiences on speechwriting, leadership and politics at, among others, Georgetown University, American University, George Washington University, Amherst College, the University of Georgia and Texas A & M, at both the graduate and undergraduate levels.
Ms. Cary also has appeared on bipartisan political roundtable panel discussions for the National Constitution Center, Harvard's Kennedy School, the National Press Club, the Miller Center and numerous corporate conferences and trade associations.
Ms. Cary also regularly speaks at conferences sponsored by national speechwriting organizations, such as the Professional Speechwriters Association and Ragan Communications.
PROFESSOR
Currently teaches Political Speechwriting as an adjunct professor; she also teaches Democracy Out Loud, a survey class of the greatest speeches in American political history. She co-taught the large Election 2020 class with a liberal colleague, and they will be co-teaching Election 2024 as well. The two wrote about their experience for USA Today.
Director of Think Again @ UVA, which helps students thrive through events and workshops that promote viewpoint diversity, free speech, intellectual humility, and critical thinking.
Founder of the UVA Student Oratory Contest, in which students write and deliver speeches about the values of our democracy; cofounded the UVA chapter of Heterodox Academy for faculty.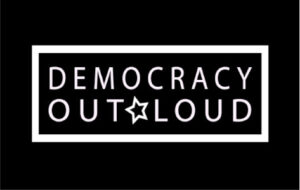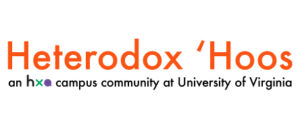 –Quote from UVA student evaluation, 2022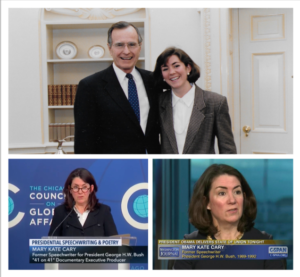 Served as a White House speechwriter for President George HW Bush from 1989-1992, and has ghostwritten several books about him. She is currently chair of the advisory board to the George and Barbara Bush Foundation.
Has written speeches for a variety of national political, corporate, and non-profit leaders — everything from State of the Union responses to TED talks.
Wrote a bi-monthly column at US News & World Report alongside a liberal speechwriter, and co-hosted a weekly podcast called Bipodisan alongside Democrat and Republican speechwriters.
Served as the staff writer to the American Museum of Women's History Congressional Commission, which led the way for a new Smithsonian museum on women's history.
Executive producer of 41ON41, a documentary about former President George HW Bush, in which 41 extraordinary people tell their best stories about our 41st president. The late Pulitzer Prize-winning historian David McCullough called 41ON41 "a great gift to history."
41ON41 debuted worldwide on CNN on President Bush's 90th birthday, and was rebroadcast internationally upon his death.
MEDIA COLUMNIST & ANALYST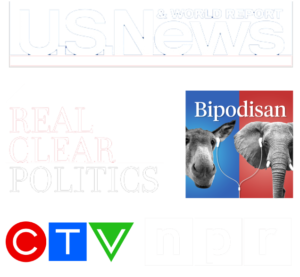 Wrote a biweekly column on politics from 2009 to 2017, serving as a contributing editor at U.S. News & World Report.  Her columns often appeared on Real Clear Politics. 
Was a regular political analyst on National Public Radio, as well as a regular contributor on CTV, the largest cable news network in Canada, analyzing American politics with a liberal colleague. Has appeared on most major American network and cable outlets over the years.
In 2017, she co-founded and hosted the political podcast Bipodisan.
WHAT THEY SAY ABOUT MARY KATE CARY
"Every corporation in America needs to hold a women's leadership summit to show support of and interest in cultivating a diverse workforce, and have Mary Kate Cary as a keynote speaker. Her true stories about women who have changed America for the better were fascinating, well told, and highly motivating to our top management. She shared advice on career and professional development that would benefit all executives. Mary Kate brings an incredible amount of energy, warmth and authenticity that left our execs with powerful messages they continue to be inspired by today. Her presentation was the highlight of the conference."
"Whenever I had a high-stakes speech to deliver, my first call was always to Mary Kate Cary. Mary Kate is smart, gets the issues quickly, is a great writer and a pleasure to work with. She learns your voice and makes you sound better. I cannot recommend her more highly."
"Mary Kate delivered a highly-rated presentation. We'd have her back in a heartbeat. She's smart, engaging and funny – all the things that make up a great experience."
"I've worked with Mary Kate Cary for years on various speechwriting projects. She knows how to listen to clients and gets your message out in a way that is persuasive, accurate and entertaining."
"We intend to show 41ON41 to all newly-reported GHWB Sailors and will continue to do so for the next 45 years that this ship is in service."
"41ON41 is a strong, good-hearted portrait of an American president … I don't think its importance can be overstated. It is a great gift to history. Bravo executive producer Mary Kate Cary and all those who made this landmark portrait happen."
"41ON41 is a storyteller's delight … It is about America, as directed and produced by a group of filmmakers who understand how the life of one man can inspire a nation. And we are all the better for it."
SPEAKING AND MEDIA INQUIRIES